Result Rankings Guide
Result Rankings take a query and provide tools to curate its results.
You can choose what shows up for any query -- like your most popular or competitive queries.
There are two aspects of Result Ranking: pinning documents and deleting documents.
Pinning is the custom placement of a result in a result set.

Deleting is the removal of a result from a result set.
You can apply up to 50 actions: a total of 50 pins or deletions, per query.
You can pin one or more documents to a query.
Pinned documents appear wherever you have placed them within your result set.
You may want a document to be at the top, under the first result, or anywhere else in the set that makes the most sense for your case.
Result Ranking is applied via the dashboard...
Walkthrough
To start ranking your results, login to Site Search and click into your Engine.
Result Rankings are based around specific queries.
Within the search box, enter the query for which you would like to curate its result set.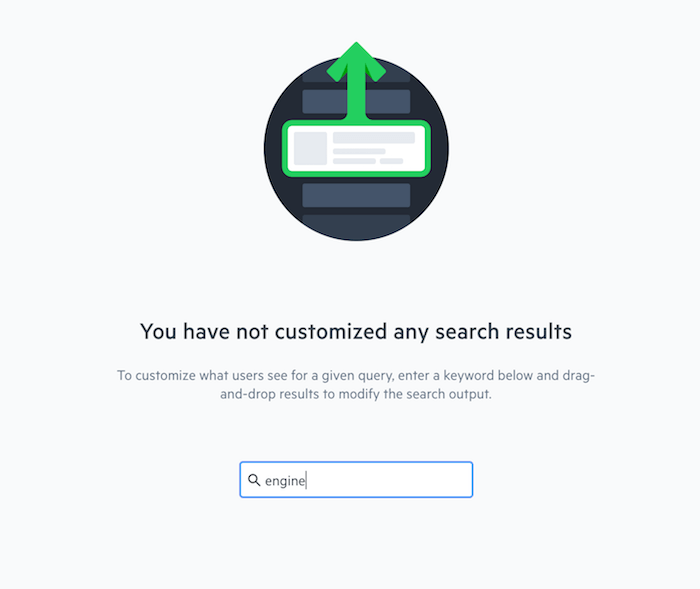 Once entered, the result set will appear -- each document will have its own item and will display the number of clicks that it has received.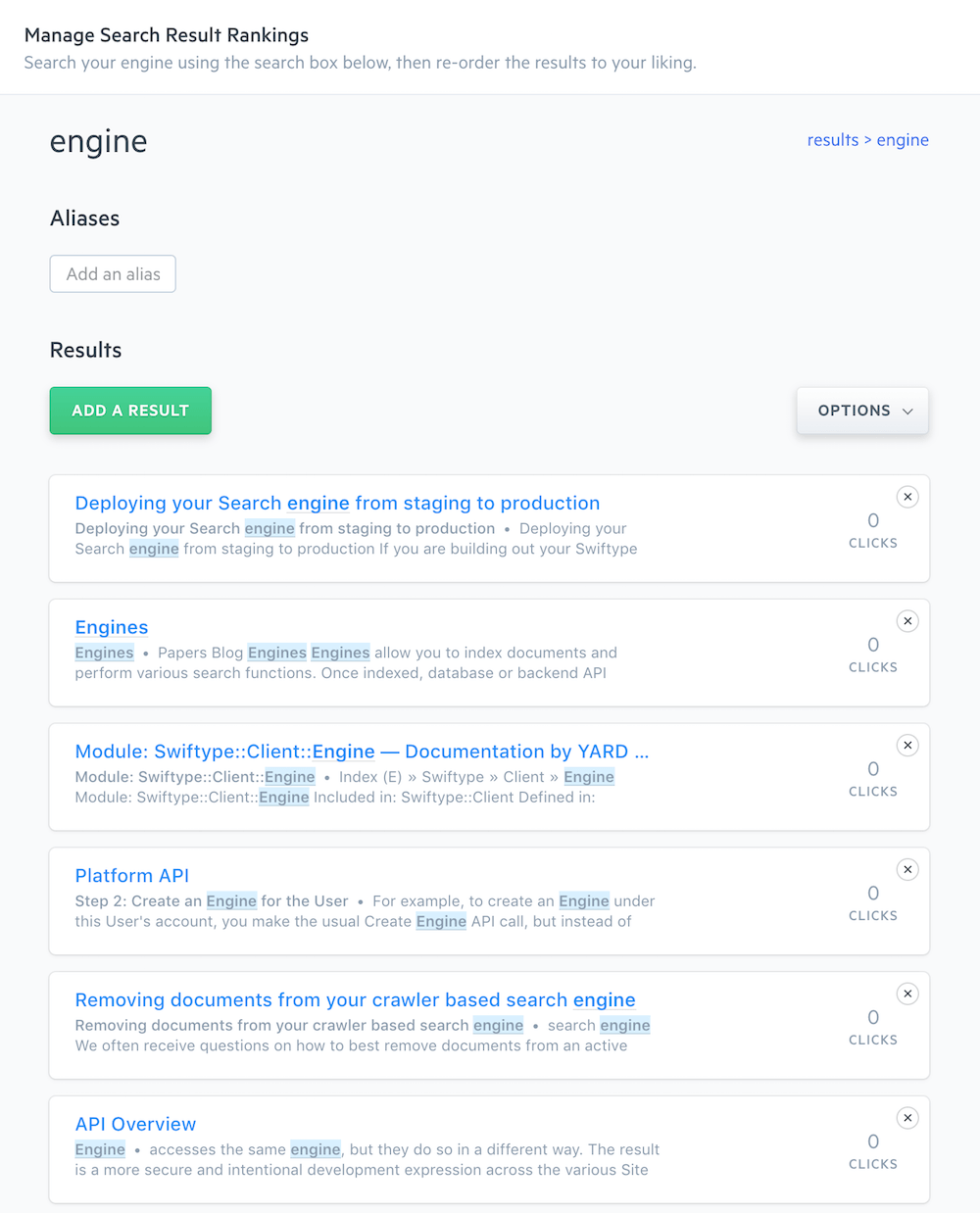 You may now arrange the result set however you see fit.
Drag and rank documents in the order that you deem best.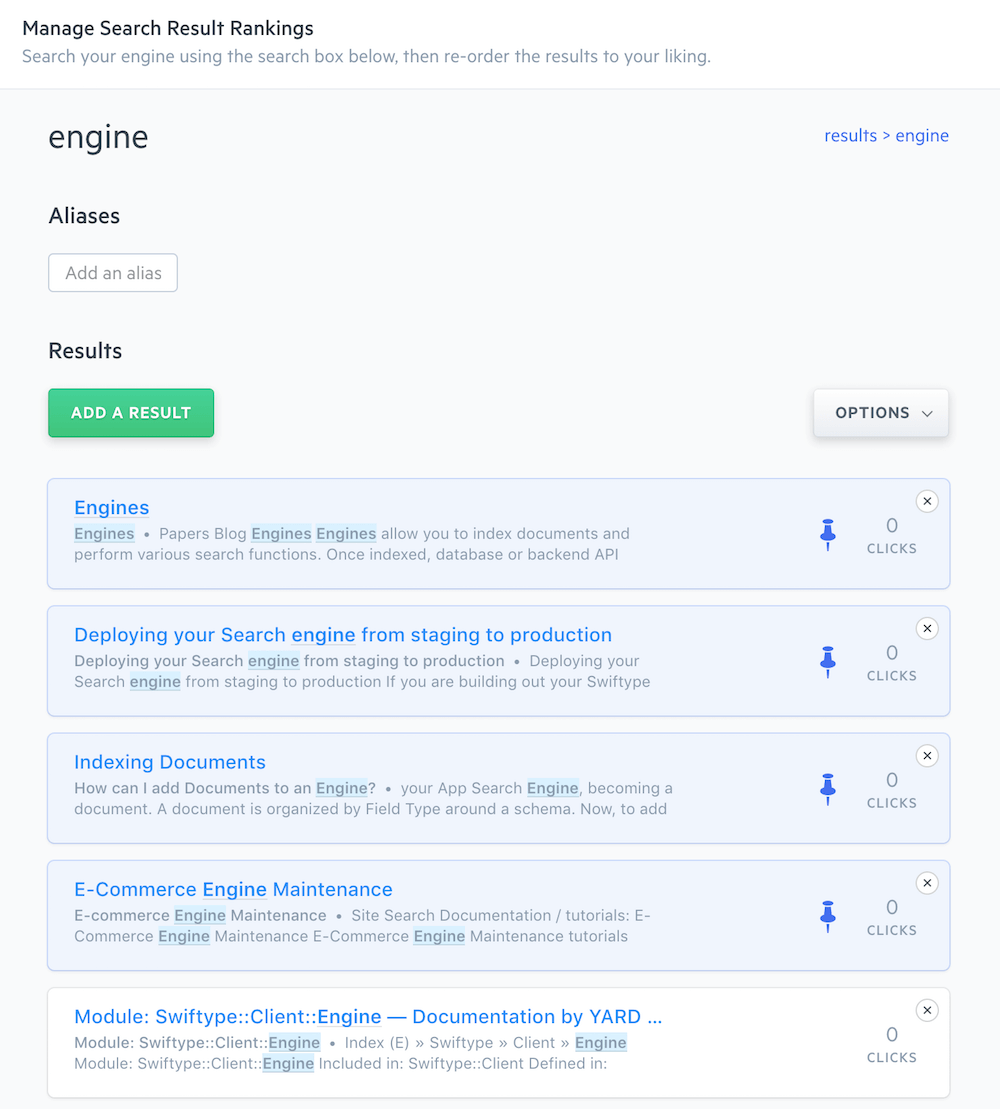 Click the x to delete documents from the result set.
Once deleted, click the Manage Removed Results button to see them listed and return them.

That covers the basics.
A supporting aspect of Result Ranking is the ability to add Aliases.
An alias is similar to a synonym, but is only applicable to a specific result set.
Synonyms create a permanent collective of similar terms, an alias only applies to the specific result set generated by the query.
Within the box labelled Add an alias, type in another keyword to associate it with the current query.
Hit Enter to apply it.
Note that a keyword may only be present within one Result Ranking configuration.

The next set of items to familiarize yourself with are the Options in the drop down menu...
The menu contains options for Ranking, Visibility, and Analytics:
Restore Default Ranking: Removes any pinnings or deletions. Begin anew from the default result set for your given query.

Show All Results to Users: Shows all results, pinned or otherwise. Deleted results will stay hidden and must be re-instated. You can restore the default or remove them from the Manage Removed Results menu.

Show Only Pinned Results to Users: Will display only pinned results. Organic results will not be displayed.

Show Analytics: Displays the numbers of clicks the query has received over 14 days via a good lookin' graph.
Often, your analytics will tell you which search queries are not generating clicks.
With Result Rankings, you start to get ahead of the insights gained from Site Search analytics and your own business intelligence.
From here, you can apply Weights and Synonyms to further enhance the relevance of your search experience.
Pins and Search Options
If a query with search options is submitted - like a filter or sort - it can effect custom pins in the result set.
If a pin is filtered out, an organic result will take its place. Other pins will not adapt from their locked positions!
---
Stuck? Looking for help? Contact support or check out the Site Search community forum!