The Searcher's Manual
With all these useful applications and services generating data, it's a challenge to keep things organized.
You have important files and pressing issues stashed all over the place.
Enterprise Search helps you find them, organize them, and action them.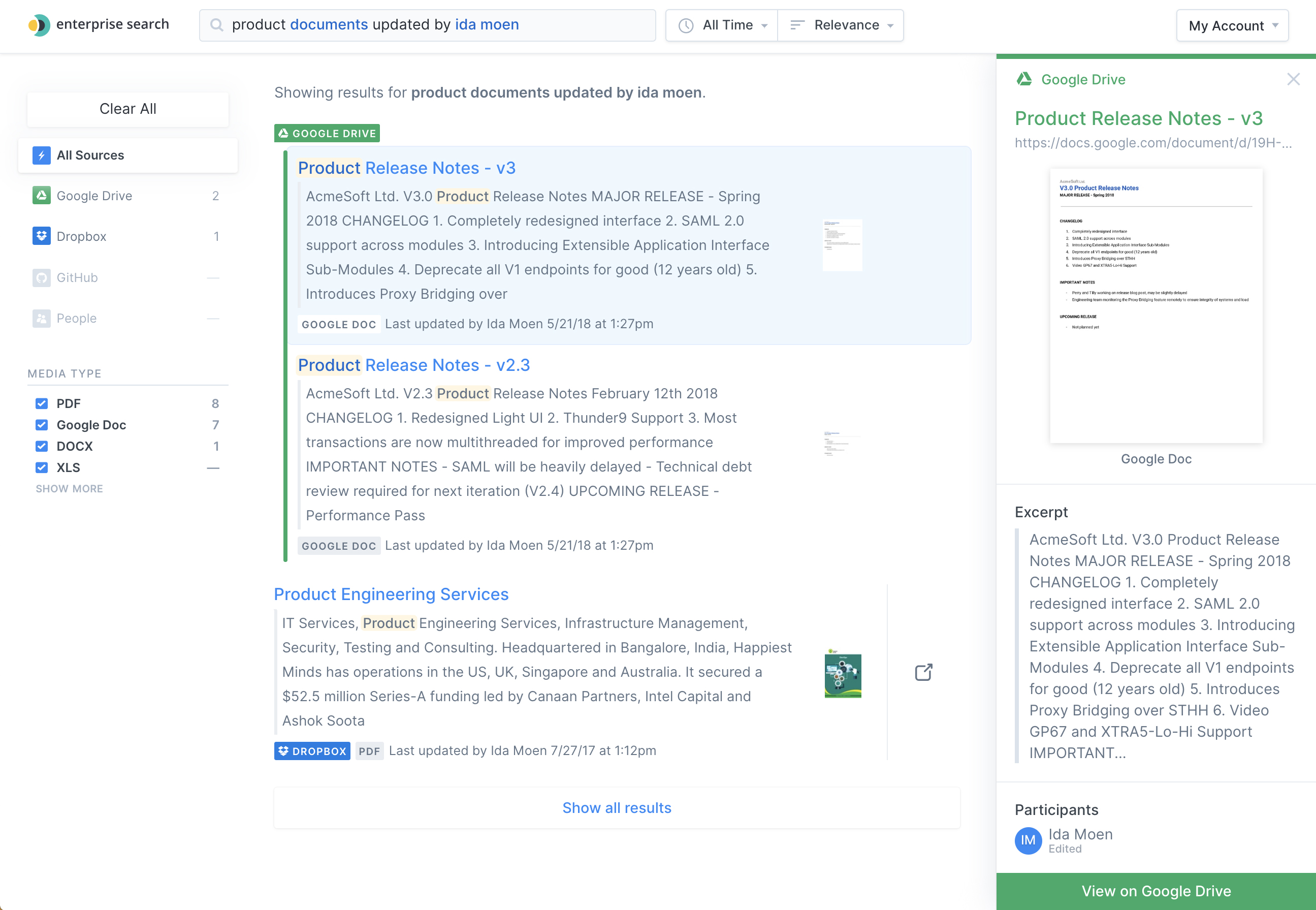 This is The Searcher's Manual.
In five minutes, you'll learn about organization wide search. And you'll never want to look back.
First, login. Then let's go!
Speaking Your Language
You have met many search bars.
Google has one, as does Bing, Yahoo -- and most popular websites and applications.
This one is like those, but with one key difference: it doesn't search one thing -- it searches many different things: your things.
It's one search bar for your everyday work life. And it understands your natural language.
You don't need to type strange incantations. You can phrase your search as if you were speaking to another person:
"monthly accounting report edited by Alvin Accountant in sheets".

"crippling bugs assigned to Erica Engineer in GitHub with status blocked."

"team sync in drive from yesterday"

"pdf from yesterday with status to do"
When you hit on a key phrase, the text will turn blue and the parameters of your search will be toggled automatically.

Some of the more common key phrases include...
| Goal | Phrase |
| --- | --- |
| Find a Person | creator is, created by, edited by, modified by, from, shared by, edit by, updated by, modified by, assigned to |
| Find a Source | in, in source, on |
| Find a Date | from, yesterday, last week, last month, recent, recently |
| Find a File Type | pdf, spreadsheet, document, issue, presentation, rtf, ppt, xls, html, json, mov |
| Find a Status | open, closed, done, to do, backlog, in progress, blocked, pending, in review |
Try out some example searches on your own.
Your Window into Work
The main dashboard shows you what's new and the content sources through which you can search.
New files will appear under Recent Activity.
Search for things using the above method.
Once you have searched, you can manually supplement your queries by setting the time and relevancy.
Unless you specify a time frame using natural language, the default is All Time.
Click the clock to set your own custom time frame:
Click the button that says Relevance to change between search modes.
You can sort by Relevance or by Recently Updated: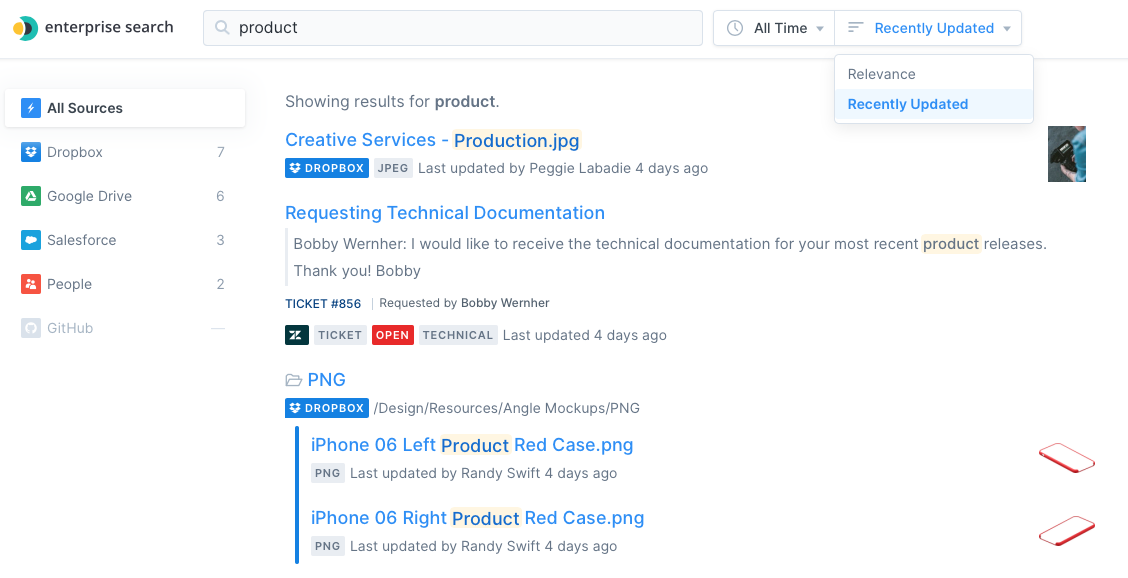 After you search for something, you can toggle facets on and off.
This means you can add or remove sources from the search, change the type, person, and more:

Each time you add a facet, your results will reflect your choices. Narrow them down as much as you'd like.
Each facet value can be included in a natural query.
So you could write: "open pull requests created by kovyrin in the super-code/aerosolve repository" as a query.
The facets would then toggle automatically.
With these tricks, you'll be able to keep narrowing things down to find just what you're seeking.
Adding Private Sources
Your administrator has added a number of sources through which you can search. But you can also add your own.
Each person can add their own private sources.
You might add your own private GitHub source, private Google Drive, or your own private Custom API Source.
When you add private sources, only you will be able to search through them.
That way, you can supplement your organization's information with your own things.
Click My Account in the top right corner.
Select Account Settings.
This is where you can change some of your personal information and your password.
But you can also select from one of two tabs. Select the Private Content Sources tab:

You'll notice you don't have any private sources yet -- no problem.
Click the green button that says: Add a private content source.
From there, you'll be able to add any content source that your administrator has connected: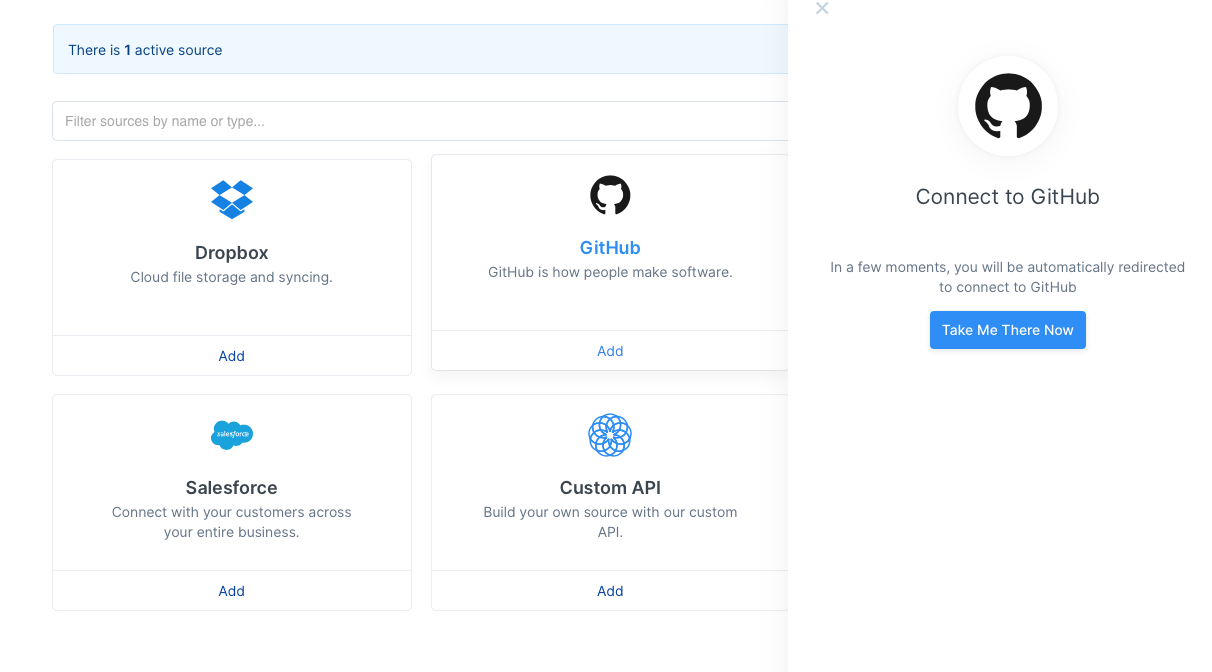 These sources only show up for you!
Pssst!... If building Custom API Sources is your kind of thing, we have a guide for that.
Summary
That's the basics. Enterprise Search will continue to evolve.
As you get more and more used to searching for things, your workflow will change over time.
You'll name files according to how you're used to searching for them and gradually build knowledge bases that are more searchable.
It's a fun road to a more organized future.
Enjoy!
---
Enjoying the beta? Something broken? Lost? Please send us your feedback or visit the Enterprise Search community.